Why Do You Need The Turtl?
The Turtl is the Ultimate Crawl Space Door and Crawl
Space Entry System.
Appropriate for new or existing crawl space entries, the
Turtl will protect your home's crawl space from deterioration.
Products that are currently used in the crawl space entry are prone to developing problems shortly after installation. The problems include steel doors that rust or stick, wood doors that rot over time leading to leaks, mold, mildew and bug infestations.
The Turtl solves these problems and protects your home from water and moisture damage, keeping your crawl space safe, clean, and dry. The all vinyl construction is attractive, tough, and easy to install.
Elevation Ring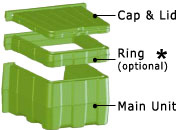 The optional elevation ring allows you to adjust for elevation changes and entry depths by adding 6" rings to raise the lid as required by site conditions. The ring is made of the same high quality vinyl construction as the standard Turtl and the molded edges provide an air tight fit between the main unit, the cap, and the lid.
* NOTE: Due to the manufaturing process of the Turtl and elevation rings, they are not interchangeable with other Turtl's.
Rotational Molding
The Turtl is manufactured using a process called rotational molding, which provides product designers with the flexibility to create exactly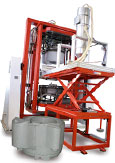 what they envision without compromising their designs. Rotational molding is often used for producing items such as kayaks, chemical and fuel tanks, and bulk containers. Because it allows for a seamless shape and unsurpassed structural strength, rotational molding allows the Turtl to fit flawlessly into new and existing crawl spaces creating a safe, dry, and attractive addition to the home.
Available Colors
The Turtl is available in three attractive colors: beige, brown and green.